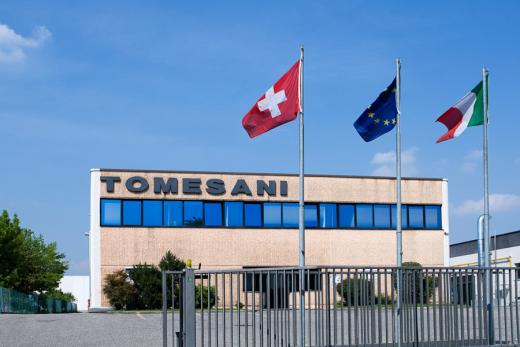 COMPANY:
Tomesani is operating for over 50 years in the field of woodworking machinery and equipment, chosen and proposed by the best brands on the market today.
We will be happy to assist you in visiting our permanent showroom of over 7,000 square meters in area, within which you can view a wide range of new and used woodworking machinery as well as for plastics, aluminium and other non-ferrous materials.
Following the choice of machinery that best meets your needs, we will ensure a constant presence even as regards to the delivery, testing and after sales support. 
SERVICES:
Support: we guarantee a good service performed by qualified technicians.
Delivery: we provide delivery with our means or by external couriers.
Trade-ins and used machinery withdrawal: we are willing to make exchanges or withdrawal of used machinery.
, Machines used: at our showroom you will find semi-new and reconditioned machines, "with warranty". Regarding the used machines, we personally take responsibility of control, of replacement of worn parts, of modifications necessary to adapt to existing standards, of painting and finishing.
Customized payments: in terms of payments, the watchword of Tomesani is flexibility: financing, leasing, mortgages, deferred payments, facilitated transactions. 
TOURISM:
Our specialty? Combine business with pleasure!
We are pleased and fortunate to operate in the heart of Brianza, renowned production centre of the furniture sector and at the same time a pleasantly green geographical area situated in the heart of Lombardy.
A short walk from our office, you will be able to enjoy a relaxing break on the shores of Lake Como or spend a shopping and cosmopolitanism day in the city of Milan.
Below, we offer some useful links for organizing your stay in the area.
Hotels that can be booked:
www.axolutehotel.com
www.hotelparkhotel.it
www.hotelleonardodavinci.com
Lake Como Tourism:
www.larioonline.it
www.lagodicomo.com
www.comolake.com
 
Airports:
Milano: www.sea-aeroportimilano.it
Orio al Serio: www.sacbo.it
Railways:
FS: www.ferroviedellostato.it
FNM: www.lenord.it